Control Panels
The controlling brain of any fire detection and alarm system is the Fire Alarm Control Panel (FACP), or Fire Alarm Control Unit (FACU). The control panel performs critical functions, such as monitoring of all the fire and smoke detection devices, controlling the sounders and signalling and providing power and battery backup to the system.
We are suppliers of control panels from major manufacturers including Morley-IAS, by Honeywell, C-TEC and Electro-Detectors Radio controlled fire alarm control panels. We also design, supply, install, maintain, commission and test all fire alarm systems throughout Ireland so
contact
CLC Fire Alarms for a quote for your detection system.
We supply both conventional control panels, suitable for use on smaller buildings, as well as Addressable Fire Alarm Control Panels, suitable for all building types. We can design and recommend equipment types for all sizes of commercial, industrial and domestic buildings.
Conventional Fire Alarm Control Panels
A conventional fire alarm control panel links to a number of lines of fire, heat and smoke detectors, and manual call points. There are referred to as detection zones. Depending on the responses received from the detection zones the control panel may activate a number of sounder or alarm systems. A conventional control panel is effective for small building types as it can indicate the zone in which the problem has been detected and usually supports up to around 40 zones with each zone being up to 2000 metres cubed in area. The fire alarm system operates with mains power and battery backup.
Intelligent Fire Alarm Systems
In larger, more complex buildings, intelligent fire alarm systems tend to be used. These systems offer the benefits of faster and more exact identification of the location of a fire and easier maintenance. Intelligent systems also allow a single pair of wires to be used to connect a large number of devices to the system, providing cost savings in the wiring of large systems.
The wiring is looped, and connects to the control panel at each end. All detectors, call points, sounders and interface modules are wired directly to the loop, each having its own address. The control panel communicates with each device on the loop, and if a warning or fault condition is signalled, or if communications are lost with a detector, the alarm is triggered. The loop can be powered from each end so that if the loop is broken at any point, no devices are lost.
Intelligent System Types
Intelligent Fire Alarm Systems may be 'analogue' or 'addressable'. In an 'analogue' system the detector returns a value to the panel representing its current state. The control panel compares this value with the alarm threshold in order to make the decision as to whether a fire is present. Note that the term analogue, used to describe these systems does not refer to the communication method (indeed many "analogue" fire systems use digital communications) but to the variable nature of the response from the detector to the control panel. In the 'addressable' type intelligent systems detector sensitivity is programmed to each device by the control panel or is preset in the factory. The detector compares its current sensor value with the configured threshold to make the alarm decision, which is then transmitted to the panel.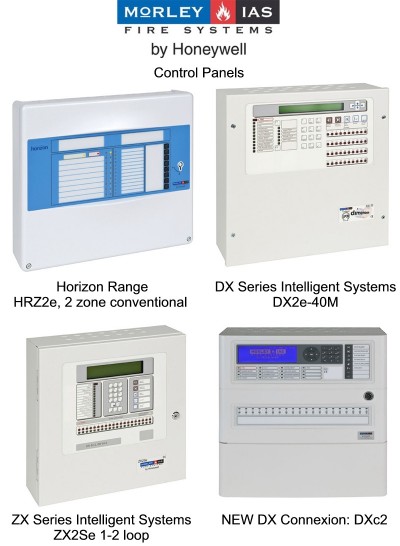 Morley-IAS Control Panels & Accessories
Morley-IAS, by Honeywell, are leading designers of fire alarm control panels chosen throughout the world by professional fire alarm installers. Morley products are intuitive to use and easy to install, network, configure, maintain and expand.
Some of the products that CLC Fire Alarms supply, fit, commission and install throughout Ireland are listed below.
Morley IAS Horizon Range Conventional Control Panels
2,4 and 8 zone models are available. Each model has 2 sounder outputs, surface mounting, and feature fire and fault relays. For simple and unambiguous operation they incorporate clear visible indicators, easy to operate functions and a big red key to activate the control buttons.
Morley IAS DX Series Intelligent multi-protocol Fire Alarm Control panels
These are available in single loop (20 zones), 2 or 4 loop models (40 zones).
These Intelligent multi-protocol control panels for fire alarm systems have been developed for simplicity and reliability. With everything configured in the software, these are 'out of the box and on the wall' solutions.
Morley IAS ZX Series Intelligent Control Panels
These are available in various models supporting between 1 to 10 loops and 2-4 sounder circuits.
This range of fire alarm control panels designed around proven and reliable intelligent microprocessor technology. The panels provide a modular, scalable fire alarm platform for protecting all types of premises.
The NEW Morley IAS Intelligent DX Connexion Control Panel
The Morley-IAS DX Connexion panel is a compact and economical panel suited for use in the protection of small to medium sized buildings. It is available in single, two and four loop models.
C-TEC Control Panels & Accessories
C-TEC Conventional Fire Alarm Control Panels
C-TEC manufactures three distinct ranges of conventional fire alarm panel - the CFP, the FP and the MFP. All three ranges are renowned throughout the fire alarm industry for their ease of installing, reliability and price. Control panels also come with Loss Prevention Certification Board (LPCB) accredition or full British Standard (BS) BS 5839 Part 4 accreditation.
CFP 2-8 Zone LPCB Fire Panel with Four conventional sounder circuits

FP 1-14 Zone BS Fire Panel with two conventional sounder circuits.

MFP 4-28 Zone BS Fire Panel with 4 sounder circuits, head-out fault indication and two on-board fire relays
C-TEC XFP Addressable Fire Panels
C-TEC's XFP range of networkable analogue addressable fire panels offer high performance at a competitive price and are LPCB certified. The XFP is available in three different formats
1 loop 16 zone

1 loop 32 zone

2 loop 32 zone
Electro-Detectors Radio-Controlled Fire Alarm Control Panels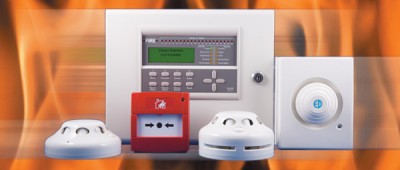 Radio fire detection systems are an alternative to wired systems, providing the advantage of less complications and disruption to the building and associated speed of installation. This is particularly suitable for first became available in the early 1980s.
Mobile phone technology has over the last couple of decades spawned huge advances in radio technology enabling Electro-Detectors to improve their range of products. Electro-detector systems are fully addressable and can provide fire detection cover for all premises from small private dwellings to a system in excess of 3000 heads.
The Zerio range of fire alarm equipment includes a small 8 zone panel capable of controlling 99 devices. The Zerio Plus Radio Fire Alarm System has been designed to meet the fire standard EN54 Part25 with 240 Fully Addressable Devices and an 8,20 or 100 Zone Panel. All accompanying smoke detectors, heat detectors and sounders are available with the Electro-Detectors range.
CLC Fire Alarms also supply all mounting and other accessories for the Morley-IAS, C-TEC & Electro-Detectors Control Panels as well as all compatible
Smoke Detectors
,
Heat Detectors
,
Beam Detectors
,
Manual Call Points
,
Sounders
,
Strobe Sounders
and
Interface Units